The Morning Exercise
I believe that the #1 things we all need for greater happiness, health, confidence and momentum in life are more "growth days."
More days where we are focused, where we find our flow, where we keep a positive attitude and serve with gratitude and excellence.
I believe that when there is a battle for your attention and time every single darn day, and when you want great things in life and so you carry great burdens and ambitions, then you MUST win more days.
You have to manage EVERYTHING with more conscientiousness and discipline so you can have the freedom of mind knowing you're doing your best and you are growing.
One simple thing I do is win the morning. Since 2001 or so, I've followed this basic routine pretty consistently: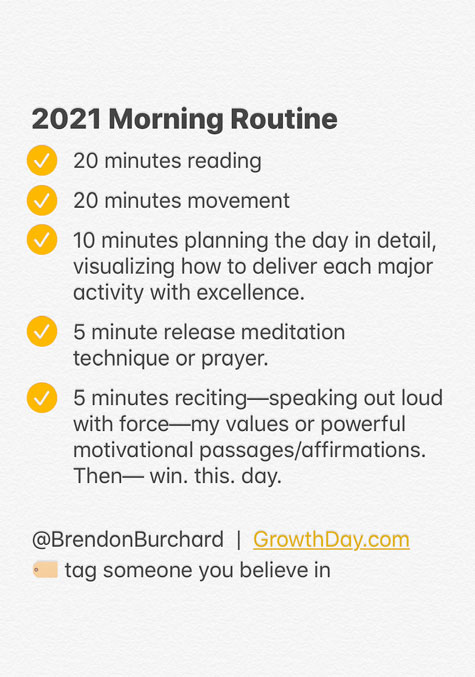 Share what YOU do in our GrowthDay Facebook group. Love to hear!
I also completely dork out during my planning session because getting my mindset and action plan is key, so I use my High Performance Planner (like millions do around the world) and then make sure I stay focused all day long by taking Optimized with my morning shake.
You don't have to follow my plan. But you need a plan! My wife has a much different morning routine than me – but she sticks to it and that's why I call her Sunshine!
Find what works for you and stick to it more. If you can only get 15 minutes in the morning to open and setup your mind, body and spirit for a winning day, then do that 15 every day.
Remember:
Consistency is the value that separates the masters from the hopefuls.
If you win the morning, you win the day, you win the month. You put your head on the pillow at night and feel you lived a good day. You had what I call a "growthday." That's when you sleep well and wake up excited because your heart knows you're being purposeful about your day's agenda and this very short and blessed time we have alive.
Happy Sunday my friend. Please be intentional this upcoming week, if only by winning more mornings. This year, have more growth days!
If you haven't made a symbolic commitment to personal growth this year, and you'd like more inspiration, direction and support, then lock in your year of personal growth at GrowthDay.com.
Thousands of people joined us this week!
You should too. Because we have a huge kickoff call on the 22nd for members only! Go signup if you haven't already on GrowthDay.com.
It's your time, and every day is a great day to grow!
Your coach,
Brendon